Legacy Videos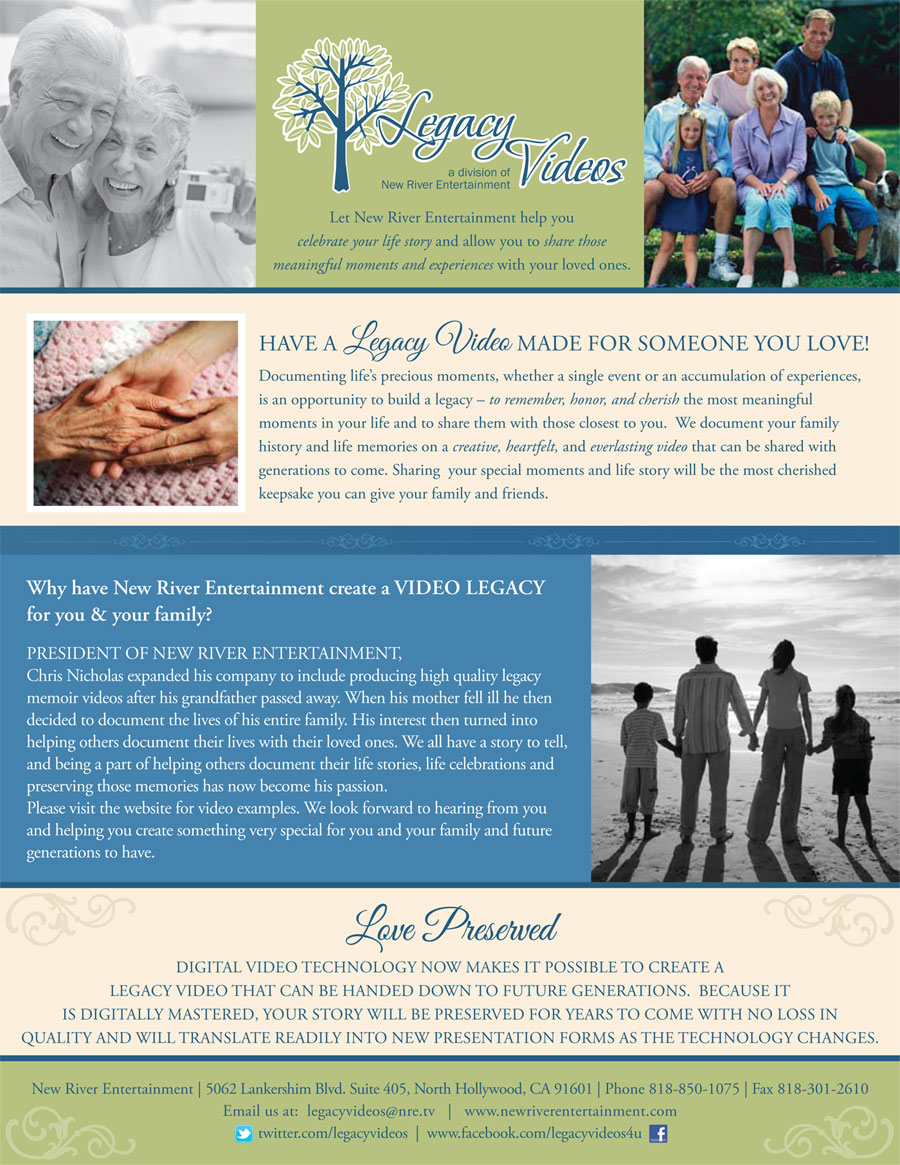 ____________________________________________________________
Howard Stern has a LEGACY VIDEO made for his parents
Please check out the video examples above and if you are interested, contact us and we can make something very special for you, your family and future generations to have. Below are some questions and answers that may help you in deciding what type of video is right for you.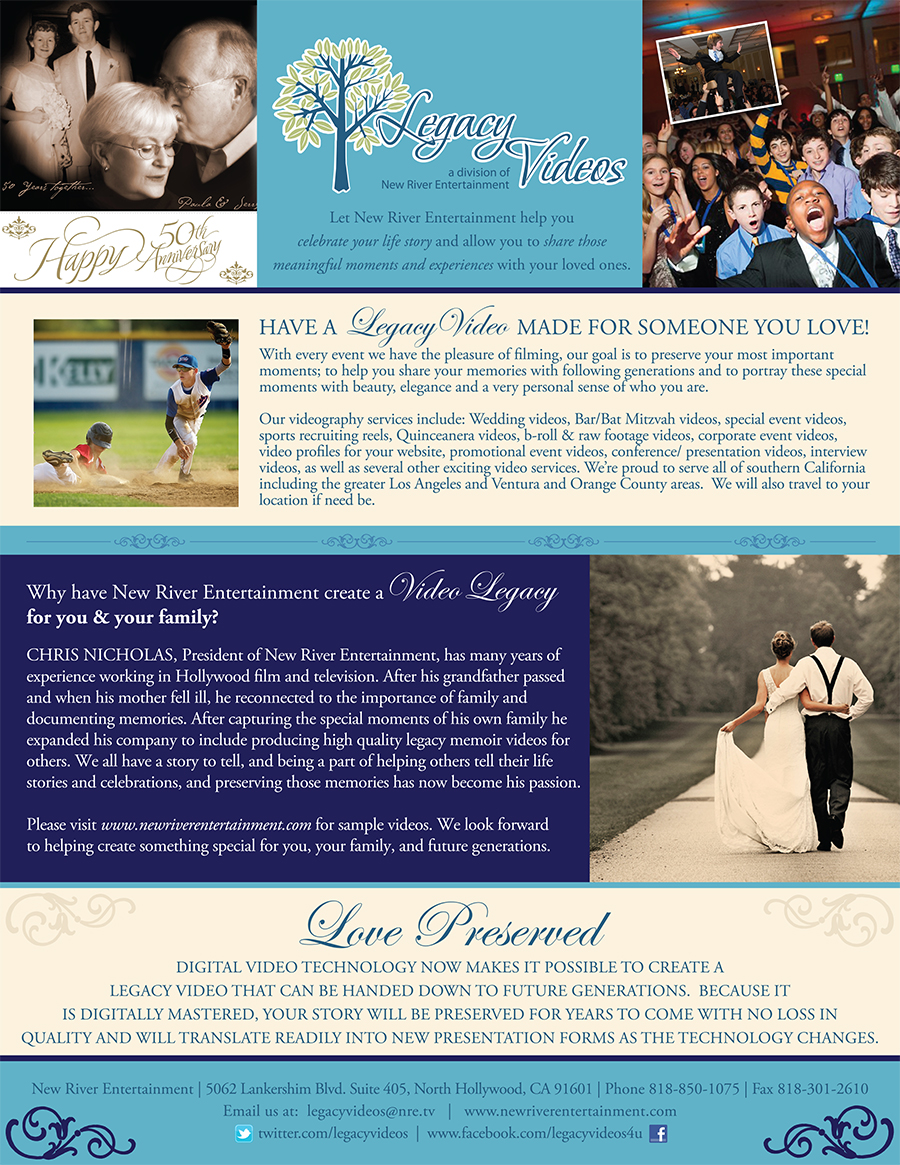 ____________________________________________________________
Frequently Asked Questions
HOW MUCH WILL THIS COST?
There are many factors to be considered when deciding the price of the finished video.  No two videos are the same and we will do our best to work within your budget.  Some videos can take a few days to make while others can take several weeks.  It all depends on the following:
How many cameras/cameramen will be needed?  How many people will be interviewed?  How many locations will be needed per interview (breaking down and setting up each time).  Will photos be used and need to be scanned and if so, how many photos?  Will home video footage be used and how much (each source will need to be converted and then organized)?  How long will the final video be (5 minutes, 15 minutes, 30 minutes or more)?
Once we speak and decide what you are interested in, we will present you with a detailed budget breakdown to help you understand the price better.
WE DEFINITELY WANT TO USE PHOTOS IN OUR VIDEO.  CAN YOU PLEASE ADVISE US HOW TO GO ABOUT IT?
We recommend going through photo albums to get ideas for asking questions.  A picture may trigger a memory to be discussed and if it does get discussed, the picture can be animated and shown during that part while editing the video.
If you do have lots of photos, try to label them on the back with a name and a brief description so we can properly label and organize it into our computer.
If you would like to have a bunch of photos playing back to back as a photo montage with music, please number the photos for us to let us know the order you'd like to have them in or we will edit them into no particular order.
You can also incorporate magazine articles, newspaper clipping, movie/concert tickets, postcards, airline tickets and so on.  Anything that will help tell your story can be used in the video.
You can either scan all the photos yourself and send us the files online or you can take all of your photos and mail them out to us and we can scan them all for you.  When we are done, we would mail them back to you with your finished DVD.
WHAT ABOUT MUSIC?  CAN I PICK ANY SONG I WANT OR CAN YOU DO IT FOR US?
We recommend trying to pick the music or at the least the tone you would like for your video.  We have a massive library of production music that we can choose.  If you are interested in using a popular song from the radio or from a favorite artist, we can do that for your personal DVD since it's not going to be publically shown and won't be sold to anyone.  If the video is put on Youtube for instance, they may mute the audio for copyrighting reasons, but we can host the video for your on our site.
WHAT IF THE PERSON(s) WE WANT TO MAKE THE VIDEO FOR HAS ALREADY PASSED AWAY?
If you would like a tribute video made for someone who has already passed away, we can still make a video to honor them without having to interview them.  We will have a voice over done to a script that either we or you write and we can edit over photos and any home video that you provide to us.
WHAT WILL MY FINAL PRODUCT LOOK LIKE?
You will receive a DVD that will look like a Hollywood produced movie.  The physical DVD itself with have a title and a picture of your choice on it.  The case will also have a custom label design.  We will also make a professional DVD customized navigational menu so you can skip around to various chapters in the DVD.  We also make you a web friendly video that can but uploaded to YouTube or any other site of your choice.
HOW LONG WILL IT TAKE TO GET OUR LEGACY VIDEO / LEGACY VIDEOS?
This all depends on how many people are interviewed and how long you would like the total running time to be.  When watching a documentary or a biography, it's usually a person sitting down in a nice setting and speaking.  After about 10 seconds pictures or video footage is usually shown to enhance the story and to make it visually more interesting than just seeing the image of a person talking.  We highly recommend gathering up as many photos as possible and home video footage to help move the story along.
WHAT IF WE DON'T LIVE IN OR NEAR LOS ANGELES, HOW CAN I STILL HAVE ONE MADE?
We can either send a crew out to you to film the interview(s) or if you want to come to Los Angeles, we can do it here.  We don't mind traveling as lots of clients live out of state
We also recommend that you visit your local bookstore or order one of these books to help you come up with some general questions that you would like your loved one to answer.
All About Me
The Book of Myself
To Our Children's Children
Other searches: legacy videos