Legacy Videos:  Birthday Videos
We create all types of videos for your loved one's Birthday.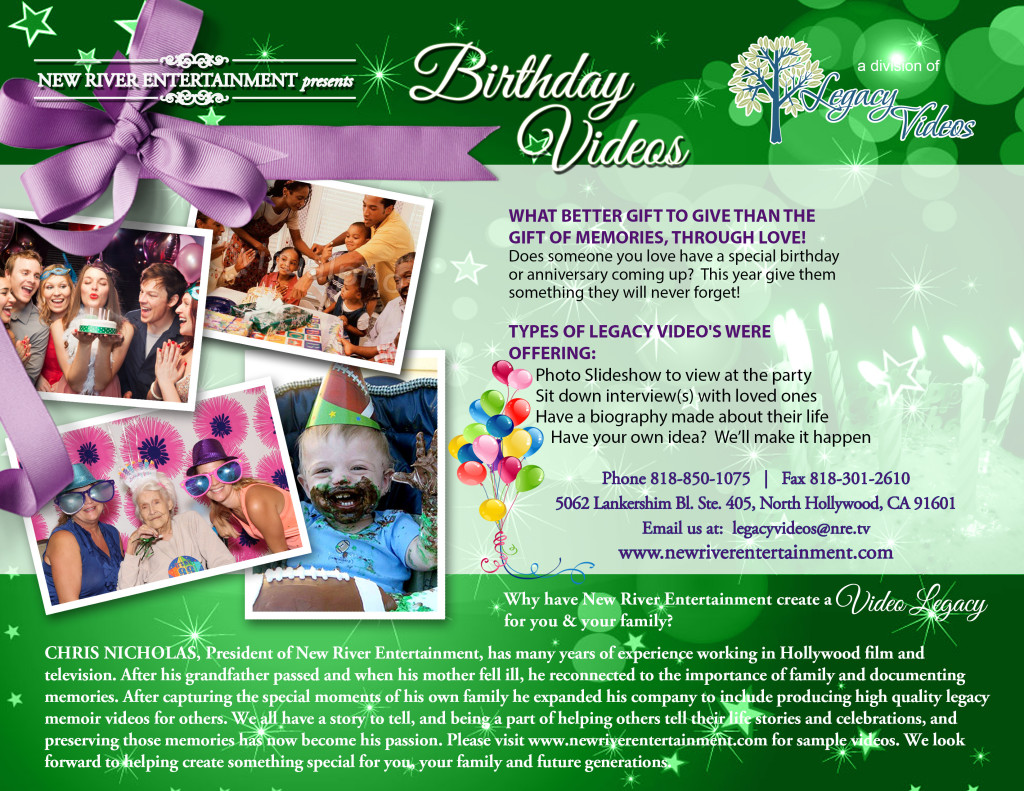 My mom always taught me that it's the thought that counts. I always believe that making memories is so much more important that buying someone a material item as a gift. This video is a brief excerpt that I made and gave to my mom on her 75th birthday. She must've watched it a million times and cried with joy each viewing. She passed away three years later. I am left with the beautiful video and I'm able to watch it, being able to see and hear her whenever I want.
Legacy Video – Birthday Gift (excerpt)
When I hear others say that they miss their loved one and that they would give anything to see or hear them again, it hurts because they could've had something like this made. Don't wait until a crisis or tragedy occurs. Have a Legacy Video / Personal Biography / Tribute-Memoir Video made now, before it's too late.
I made this video as a gift for my friend. Her mother was one of my mom's best friends and they were like family to us. I day before I made this would've been her mom's 74th birthday. One of my goals is to help others preserve memories through video. Please watch this brief video and consider having videos made of YOUR loved ones!
Here are a couple of excerpts from other longer interviews. First is an excerpt from a much longer one-on-one sit down interview of me asking my dad everything I ever wanted to know about him and our family's history.  My dad has now had 17 surgeries due to producing tumors in his bladder/kidney area.  The second one is of my grandfather.
I know this isn't something that everyone thinks about, but don't wait until it's too late.  Having a Legacy Video of some kind made is such a beautiful gift to give to someone while they're still with us and when they finally pass on, you will have this truly priceless gift to watch and show future generations.
FINDING OUT ABOUT CANCER (excerpt)
GRANDFATHER TRIBUTE (excerpt)
Thank you for taking the time to view this page. My 18 years experience in television, film and home entertainment, plus the love I have for my family will help make a video for your loved one a wonderful gift.
Please call or email me at the information below.
Respectfully,
Chris Nicholas
chris@chrisnicholas.com
Office Number: 818-850-1075
NEW RIVER ENTERTAINMENT