Local Retail Videos
We create videos for local retail stores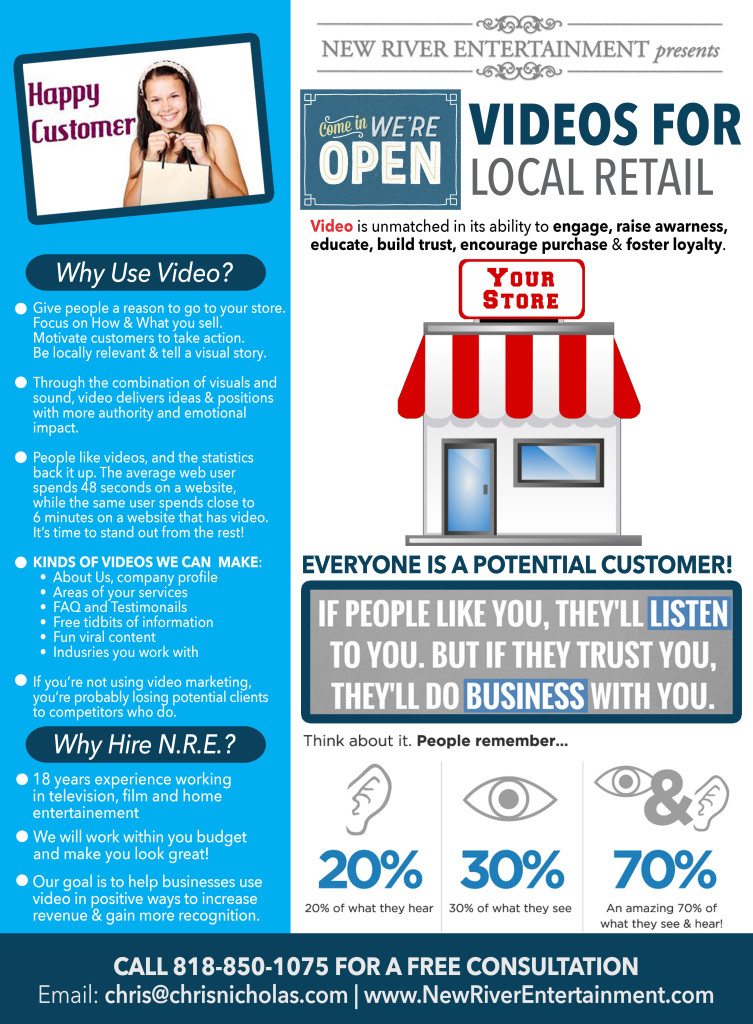 Having videos will set you apart from other dentists in your area, allowing potential patients to meet you and your staff while explaining procedures and giving dental tips. Plus patient testimonials are so much more engaging then just reading them. We could film procedures to show visitors to your web site exactly how things are done.
Having too much information to read is quite overwhelming for a potential client, especially on their cell phones (mobile digital media time in the US is now significantly higher at 51% compared to desktop at 42%).  With that being said, here's our brief About Us video:
Here's two videos we created as part of our Same Day Videos service (this is geared toward mom and pop establishments that don't have much of a budget to work with; we don't want to turn down anyone's business and we feel every company deserves a marketing video).  
This first one is an About Us video for a small bike shop in North Hollywood named, Van's Cyclery:
This next video is a 30 second commercial for Van's Cyclery:
Here is a brief video testimonial from Van himself, saying how happy is with his videos and how he was glad that hired us to make them:
The goal at New River Entertainment is to help you use videos to increase your revenue, gain valuable recognition and help grow your business. We look forward to speaking with you soon to discuss how we can create web videos for your practice.  Until then, please check out the rest of this site to see more examples of our previous work.
Respectfully,
Chris Nicholas
New River Entertainment
Phone: 818-850-1075
Email: chris@chrisnicholas.com