Elderly & Senior Care Industry Videos – Marketing Video
We create videos for all types of businesses associated with Elderly Care
The future is looking up for the Elderly and Disabled Services industry. Intensified by an aging population, demand for industry services is bountiful. However, there is so much competition out there.  Allow New River Entertainment the chance to help you and your company to create a video or series of videos that will help you stand apart from your competitors, while creating an emotional connection with potential clients who will be viewing them.
Belmont Village's Hollywood location has hired us to create a few videos for them.  Here's a Yelp Review from Patricia Murphy, Belmont's Executive Director, saying what a positive experience they had working with us.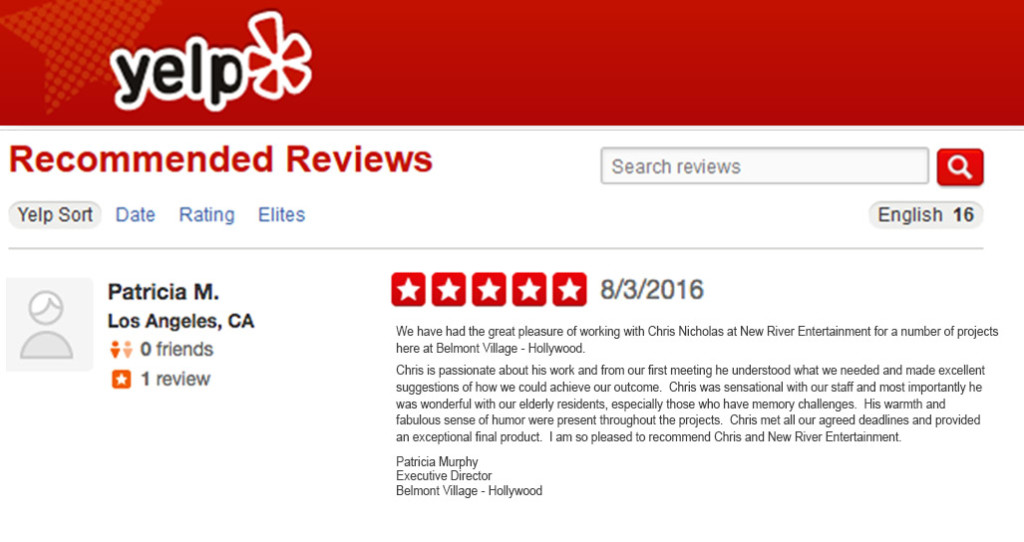 Belmont Village Hollywood's American Heroes: Portraits of Service Exhibit opening event recognized 20 resident veterans for their service in WWII, Korea and Vietnam. The portraits of the resident veterans are now part of the permanent gallery display at Belmont Village Hollywood.  New River Entertainment had the privilege to film this event.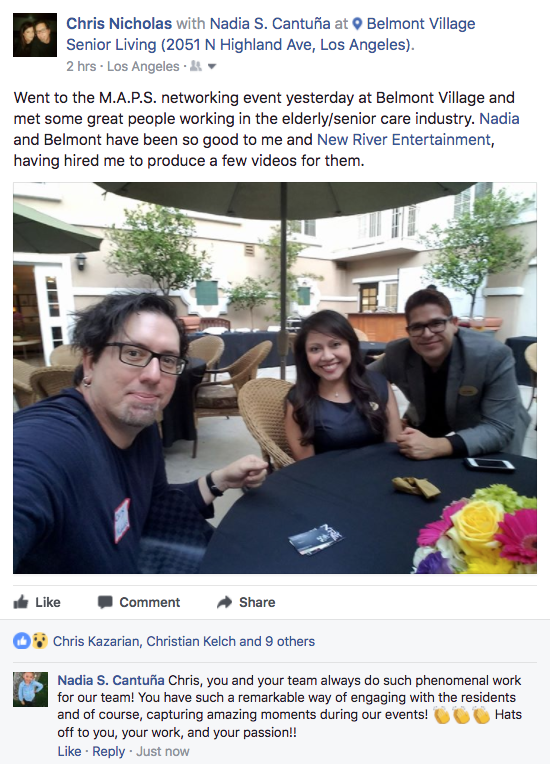 Here's another video we created for Belmont Village Hollywood Hills.  It was a celebration of their 15-year anniversary.
Here's an example of an ABOUT US video.  It's from me and my company, New River Entertainment.  Think about how we can bring your web site to life with an about us video for your company.
Legacy Videos are the most unique and special gifts you can give to anyone.  If you are or have a parent or a grandparent, it's so important to preserve your family's history.  Creating a personal biography about someone's life is a gift not only to them, but to you, your family and future generations to come.  This is a passion of New River Entertainment, to help other families preserve their memories and their family history.
HOWARD STERN TALKS ABOUT HAVING A LEGACY VIDEO MADE FOR HIS PARENTS
HERE'S A FEW OF OUR LEGACY VIDEO EXCERPTS.  Families with elderly members in them, should really think about documenting their loved one's before the pass on.  It's amazing gift for the whole family that can be passed down to future generations.
TRIBUTE VIDEO:
ONE-ON-ONE INTERVIEW WITH ADULT CHILD AND HIS FATHER:
PHOTO SLIDESHOW WITH MUSIC
Thank you for taking the time to view this page. My 18 years experience in television, film and home entertainment will help bring your website to life through a high-quality video, which will bring you more clients.
I'll look forward to speaking with you soon. Much thanks and all the best!
Respectfully,
Chris Nicholas
chris@chrisnicholas.com
Office Number: 818-850-1075
NEW RIVER ENTERTAINMENT
Connect with me on LINKED IN