Real Estate Videos
We create videos for realtors and real estate companies.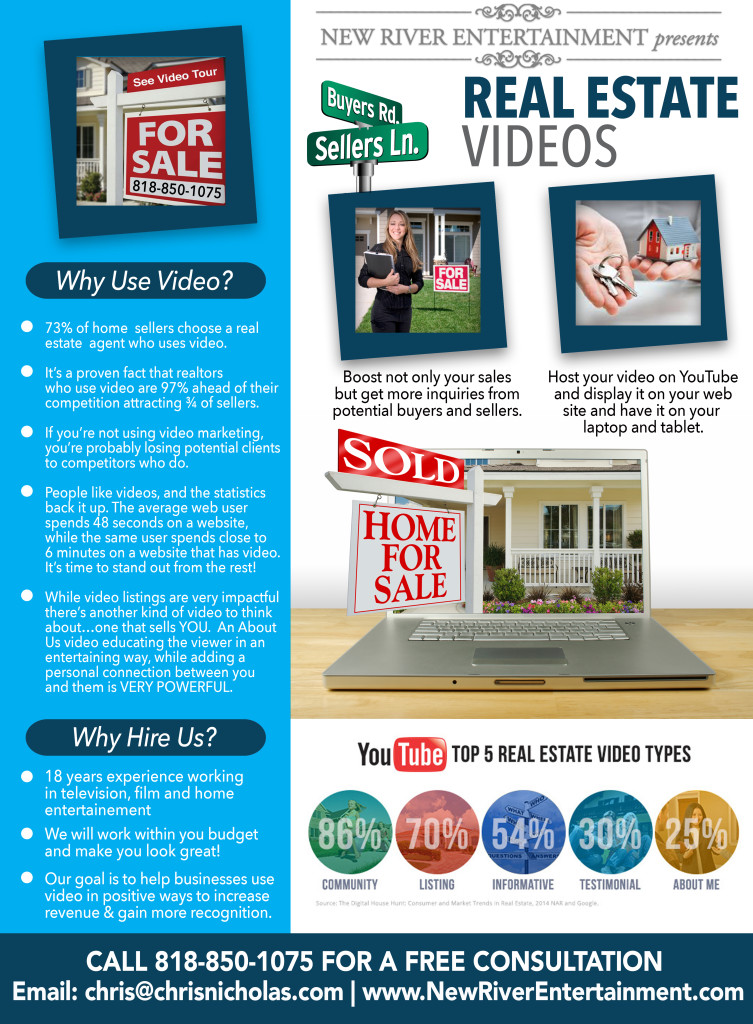 Having videos will set you apart from other real estate agents in your area, allowing potential clients to meet you and find about about your history and why they should choose you over a competitor. Plus, customers testimonials are so much more engaging then just reading them.  Here's a video testimonial from one of our very satisfied customers.
Testimonial Video Transcript:
"I hired Chris of New River entertainment to help me make a video listing of my house. I wanted to utilize all the benefits of social media and so Chris came over shot it, edited it , all within 24 hours, And I was able to upload it to my Facebook account and blast it to everyone in my email list. It was a great tool to use because every time I ran into somebody, I was able to say hey I'm selling my house want to see it. And I would whip out my phone and show them the video on the spot and if they were interested, and they always were, because Chris did such a great job. I can email them or text them the link immediately. And ultimately I did sell my house, largely in part to Chris. And now I have all this footage of my house, which is an added bonus because I don't live there anymore so all in all it was a great experience. I highly recommend hiring Chris and New River Entertainment. Thanks Chris!" – Kathlyne Pham
Having too much information to read is quite overwhelming for a potential client, especially on their cell phones (mobile digital media time in the US is now significantly higher at 51% compared to desktop at 42%).  With that being said, here's our brief About Us video:
The goal at New River Entertainment is to help you use videos to increase your revenue, gain valuable recognition and help grow your business. We look forward to speaking with you soon to discuss how we can create web videos for you and your company. Until then, please check out the rest of this site to see more examples of our previous work.
Respectfully,
Chris Nicholas
New River Entertainment
Phone: 818-850-1075
Email: chris@chrisnicholas.com